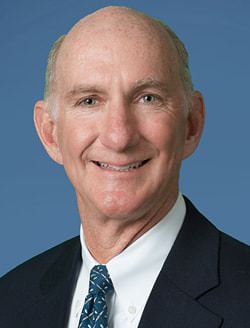 Steven S. Louis, M.D.
Orthopaedic Trauma
Partner, Hinsdale Orthopaedics
Biography
An integral part of the Hinsdale Orthopaedics team since 1997, Dr. Louis' exceptional surgical skills are complemented by a personable style and dedication to the highest quality patient outcomes and satisfaction. He is a board certified orthopaedic surgeon and is fellowship trained in the area of trauma. His post-residency training allows him to treat patients with traumatic injury, particularly those with pelvic injuries, complex fractures, nonunions, and infections. Additionally, Dr. Louis' practice focuses on hip and knee replacements.
Dr. Louis is one of few surgeons in the Chicago area who performs total hip replacement using the Direct Anterior Approach. Expanding on the pelvic trauma reconstructive work that he does, this procedure has been a natural and comfortable transition. For knee replacements, Dr. Louis uses a customized system made specifically for each patient's anatomy.
Dr. Louis is the Director of Orthopaedic Trauma at Good Samaritan Hospital in Downers Grove, Illinois, a Level I Trauma Center. He also serves as the Chairman of the Operating Room Committee and Chairman of the Department of Surgery. He is an instructor for the Association for the Study of Internal Fixation (ASIF), clinical instructor at Loyola Medical Center, and clinical instructor for the Direct Anterior Approach Total Hip Arthroplasty, training surgeons, residents and other healthcare professionals. Dr. Louis is also an active clinical faculty member of the American Hip Institute. Dr. Louis dedicates considerable time to lecturing and to hands-on training of other physicians, medical students, nurses, and allied health professionals.
Fellowship, Orthopaedic Trauma, The Hospital for Special Surgery, New York, NY
Residency, Medical College of Wisconsin, Milwaukee, WI
Internship, Medical College of Wisconsin, Milwaukee, WI
M.D., Northwestern University Medical School, Chicago, IL
Direct Anterior Hip Replacement
Trauma/Complex Fracture Management
Nonunion/Malunion of Fractures
Pelvic & Acetabulum Reconstructive Surgery
Knee Replacement
Partner, Hinsdale Orthopaedics
Director, Orthopaedic Trauma, Good Samaritan Hospital
Chairman, Department of Surgery, Good Samaritan Hospital
Chairman of OR Committee, Good Samaritan Hospital
Clinical Instructor, Loyola University Medical Center
Clinical Instructor, Direct Anterior Approach Total Hip Arthroplasty
Staff Physician, Hinsdale Hospital, Good Samaritan Hospital
US News & World Report Top Doctor, Orthopaedics
Hinsdale Hospital
Good Samaritan Hospital
Salt Creek Surgery Center
Team Physician, High Performance Network, USA Swimming
American Academy of Orthopaedic Surgeons
Association of Bone and Joint Surgeons
American Medical Association
Orthopaedic Trauma Association
AO-ASIF Instructor/Faculty Member
DuPage County Medical Society
Illinois Orthopaedic Society
Dr. Louis is an outstanding surgeon and he is the most personable health professional I've ever worked with. In addition to being technically proficient with the most advanced hip implant technology, he is patient, caring, and a good listener. He answered my many questions on the techniques and materials specified for my total hip arthroplasty in a way that made me comfortable going forward with the operation. he is excellent in post-operative follow-up and assisted with additional health concerns throughout the year following the operation. I enthusiastically recommend him to anyone needing similar care.
My experience with Dr. Louis was outstanding. He is an excellent surgeon and the whole surgical experience was wonderful. I cannot give enough kudos to Dr. Louis and his PA's. For Additional Testimonials, Visit Dr. Louis' Website