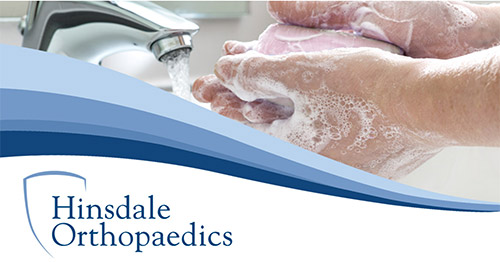 Updated: Aug 01, 2020
Now more than ever, Hinsdale Orthopaedics and Illinois Bone & Joint Institute provide a safe alternative to hospitals and emergency rooms for urgent and non-urgent orthopedic treatment and care. Our free-standing office facilities and OrthoAccess immediate care clinics adhere to CDC safety guidelines to protect all patients and staff. Our expert orthopedic and subspecialty providers stand ready to care for you and your family. To learn more about the steps we are taking to keep all Hinsdale Orthopaedics and IBJI facilities safe for patients and staff, please click below.
www.ibji.com/elective-surgery-information/
www.ibji.com/safety-resources/
Elective Surgeries
In accordance with Governor Pritzker's recent lifting of the elective surgery order, Hinsdale Orthopaedic Associates will resume elective surgeries beginning May 11, 2020.
As established by IDPH, surgeries scheduled must adhere to a strict set of guidelines to continue ensuring safety for both patients and medical staff. If your surgery was placed on hold during this time, your Hinsdale Orthopaedic Associates provider will contact you regarding rescheduling options. Due to the high volume of rescheduled procedures, we appreciate your understanding as we work with hospitals and surgery centers to adapt to comply with the recommended guidance.
More information about resuming Elective Surgery can be found here.
As this situation is evolving we will update content as needed.
Face Masks and Coverings: As of 4/24/2020, Gov. Pritzker has provided the following guidelines on masking: All Illinoisans should wear a mask or face covering when they must leave their home or report to work for essential operations and they either cannot or it is impractical to maintain 6 feet of physical distance between themselves and others. IDPH guidelines can be found here.
In order to adhere to these requirements, all patients attending in-person appointments, will be required to wear a face covering upon entrance to Hinsdale Orthopaedic and IBJI facilities.
Our offices are OPEN to provide essential and critical care to our orthopaedic patients. To limit the spread and exposure to COVID-19, and based on guidance from the CDC and government agencies, we have put in place a limited schedule in our offices, to see patients with urgent problems.

To help ALL of our patients, we are set-up and available to offer our patients Telemedicine Visits.

Telemedicine allows our Physicians and medical providers to deliver convenient care through audio and video technology in real time to you.

A Telemedicine Visit is simple to arrange. Once scheduled, you will receive a text message and email that provides you a link to login securely and access your appointment via your smart Phone, smart device, laptop or desktop computer.

If you have any questions or concerns, or would like to schedule appointments for either an office visit or a Telemedicine Visit, please call us at (630) 323-6116.


Hinsdale Orthopaedic Associates Patients,
The health and well being of our patients, staff, and community is our first priority. Amidst growing concern around Coronavirus (COVID-19), we are taking all the CDC and IDPH recommendations and precautions to prevent viral transmission to ensure your safety in our facilities.
What Hinsdale Orthopaedic Associates is Doing
Prevention Screening
Our staff will be contacting all patients prior to their scheduled office visits in order to reiterate and confirm a health status check as recommended by the CDC.
Patients presenting with COVID-19 symptoms - fever, cough and/or shortness of breath - will be rescheduled per CDC guidelines and their referring MD will be notified.
Those Patients who fall into a "high risk" category, including patients who have travelled to known COVID-19 "hotspots", even if they are asymptomatic, will be asked to reschedule their appointment 14 days from the date of their current appointment.
Out of an abundance of caution, Hinsdale Orthopaedic Associates will be recommending that patients over the age of 65, as well as patients with known immunocompromised conditions such as Cancer and Diabetes, consider rescheduling their appointments as well.
Cleaning
We always follow the highest level of OSHA sanitization guidelines. We have enhanced these preventative measures in order to protect our staff, patients and the community at large against any additional risk factors associated with the spread of COVID-19.
Health Status Monitoring
We have initiated an "Active Monitoring Schedule" for all staff Members to ensure thatour responsibility towards your scheduled visit starts long before you walk through ourdoors. Through active and consistent self monitoring, we will contribute to maintaining the highest possible levels of risk mitigation while providing essential musculoskeleta lhealth services for you during this national emergency.
Scheduled Surgeries
In accordance with changes in hospital policy, your surgeon may be contacting you to reschedule or postpone current elective procedures
Additional CDC Resources
Hinsdale Orthopaedic Associates is providing the following information for you from the CDCand other reliable sources regarding COVID-19. These links are available so you can be informed and have the most current and relevant information.
How It Spreads
Symptoms
Prevention and Treatment
Protecting Your Home
What To Do If You Are Sick
We appreciate everyone's support and understanding as we help care for you and at the same time keep our community healthy.
Sincerely,
All Physicians and Staff
Hinsdale Orthopaedic Associates