Dr. Ronak Patel Speaking at Indiana Workers Compensation Institute (IWCI) Lunch and Learn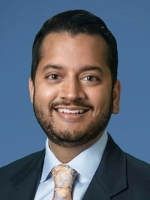 Dr. Ronak Patel, orthopaedic surgeon with Hinsdale Orthopaedics, will be the speaker at the Indiana Workers Compensation Institute (IWCI) Northwest Chapter's April Lunch and Learn.
Dr. Patel is a fellowship trained orthopaedic surgeon specializing in all sports medicine injuries for adolescents and adults, including knee, shoulder and elbow. He will be speaking about 'Meniscus Tears: What's old? What's new?'
IWCI's mission is to promote and conduct programs of general education in worker's compensation and related areas, organizing regular luncheon meetings with each of the chapters which provides educational opportunities for all members.
For more information, click here.