Dr. Benjamin G. Domb featured on Windy City Live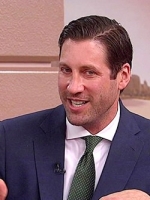 Windy City Life "Ask the Doctor" appearance by Benjamin Domb, MD.
Ryan's orthopedic surgeon, Dr. Benjamin Domb, took questions from viewers for a "Ask the Doctor" segment.
He talked about a common injury pregnant women endure, preventing common injuries, protecting knees when training and arthritis in pinky fingers.
Watch Dr. Domb's TV Appearance